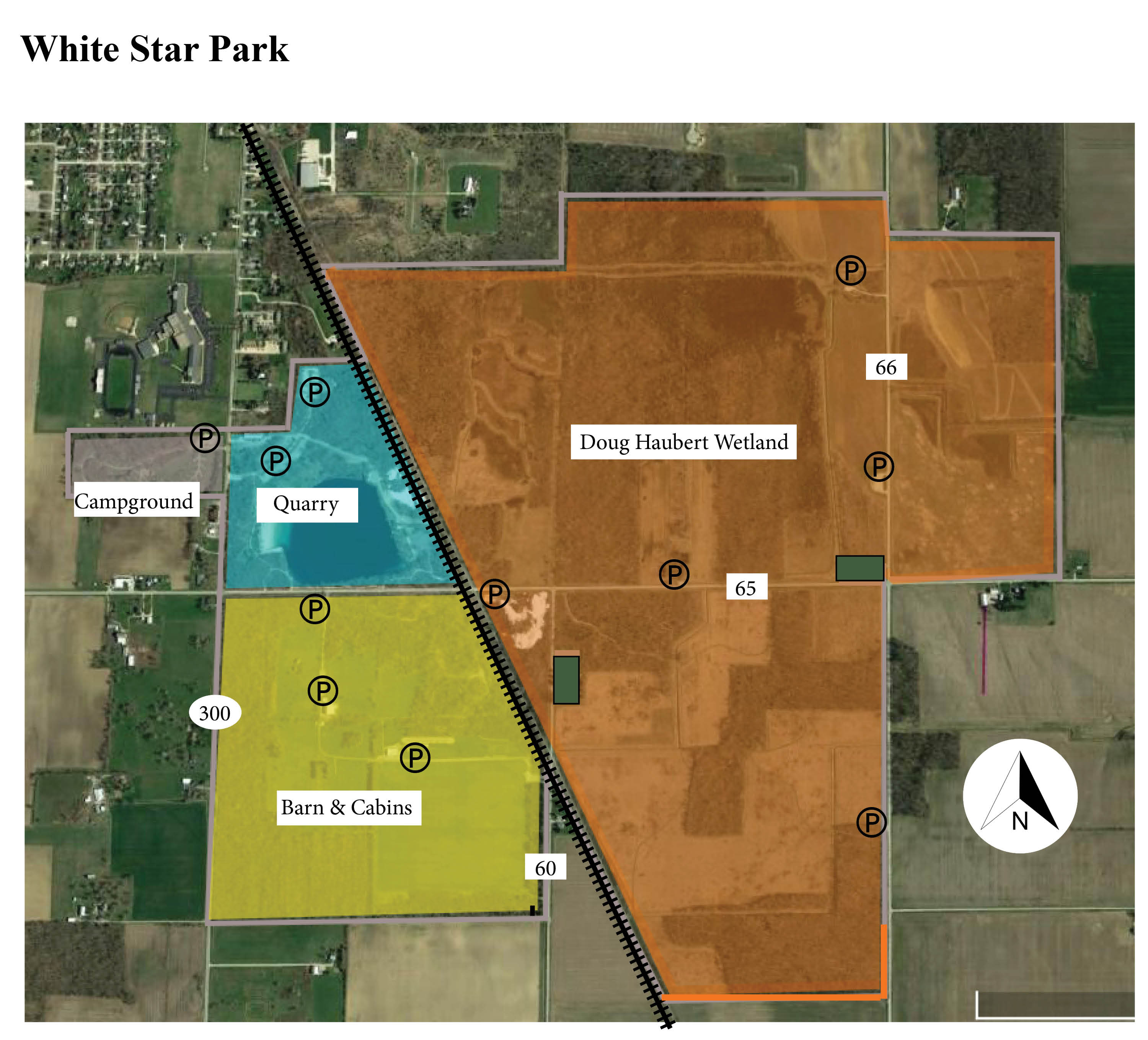 White Star Park consists of 797 acres and four distinct areas which include:
White Star Park
925 South Main Street, Gibsonburg OH 43431
White Star was a quarry operation for mining limestone. It was developed with Federal Land & Water Conservation Fund money and the sale of scrap metal from the site. The White Star Quarry is the location of White Star Quarry Beach, scuba diving, shelter rentals, fishing opportunities, boating (only hand powered and electric motors allowed), and an .8 mile trail that circles the quarry.
---
One of Northwest Ohio's premiere areas for swimming. White Star Park Beach is located on a spring fed quarry. Open Memorial Day thru Labor Day.


White Star Park: Campground
910 South Main Street, Gibsonburg OH 43431
Located across from the park's main entrance. Open April 15th-November 1st, 48 sites that each have water and electric. There is also a shower house available for use by campers. Reservations must be made online, no walk-in sites. Check in time 2pm, check out time is noon.

---
White Star Park: Barn and Cabins
5013 County Road 65, Gibsonburg OH 43431
The location of two 1870s era historical log cabins. Both cabins were found off-site, deconstructed and then reconstructed at their present location. And extensive trail system and sledding hill are located at this site as well. White Star Park Barn and Cabin area is also home to the yearly Sandusky County Restorers of Antique Power show held every labor day weekend. A rentable barn and shed are also available.
---
White Star Park: Doug Haubert Wetland
1330 County Road 66, Gibsonburg OH 43431
Doug Haubert Wetland is an example of a constructed wetland. It is an excellent area for birding, especially is the spring and fall for migratory waterbirds. With a large amphibian population, it is a prime location to hear frog vocalizations during spring and early summer. Doug Haubert Wetland is the only park district property that allows horseback riding on selected trails. The Park District also allows for hunting opportunities on this area of White Star Park.

---
Operations
901 South Main Street, Gibsonburg OH 43431